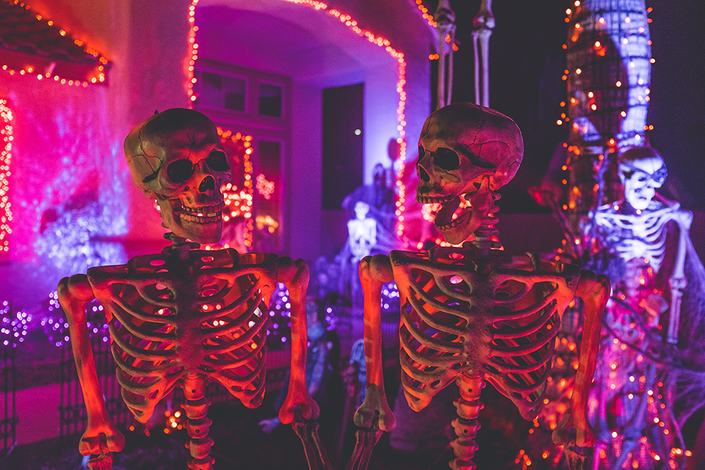 Killer Halloween Party
Your complete guide to planning one hell of a spooky celebration
Does this sound familiar?
It's Halloween night, and you're at home watching the same old horror movies on cable, snacking on the candy you're supposed to be giving to trick-or-treaters.
Sigh. Another October 31st is going by with no amazing party to attend.
You came up with a killer costume idea and found the perfect smoking Halloween cocktail. You thought about hosting your own, but you ran out of time. Plus, you'd never be able to pull off the kind of party you want to attend anyway because real life doesn't look like parties on Pinterest or Instagram...or even the movies.
That's no way to celebrate the spookiest night of the year, Halloween lover.
What if Halloween didn't have to be that way?
Killer Halloween Party is your easy-to-follow guide that will help you plan every detail needed to celebrate October 31st the way you've always wanted!
The course is packed with real-life examples from my own parties, step-by-step tutorials my best resources to plan your party on a budget and secrets to saving money.
It's time to enroll in Killer Halloween Party
Your complete guide to planning one hell of a spooky celebration, from spookylittlehalloween.com.
In this self-paced online school, you will:
Go through 11 lessons to learn the easy details you need to plan for your party, plus get real-life examples of how they're done AND plan them for yourself
Get a free download of the 35+ page Killer Halloween Party workbook (Halloweenify-ed, of course) with worksheets to keep your party plans organized
Be invited to a private Facebook group of your KHP classmates and Halloween lovers who are always planning a Halloween party in their heads
Gain access to the KHP library full of Miranda's BEST Halloween party resources and secrets to saving money on party supplies and decor
ADDED IN 2019: An entire section on how to host a contest at your party!
You'll also receive lifetime access to the school to plan your celebration the KHP way year after year.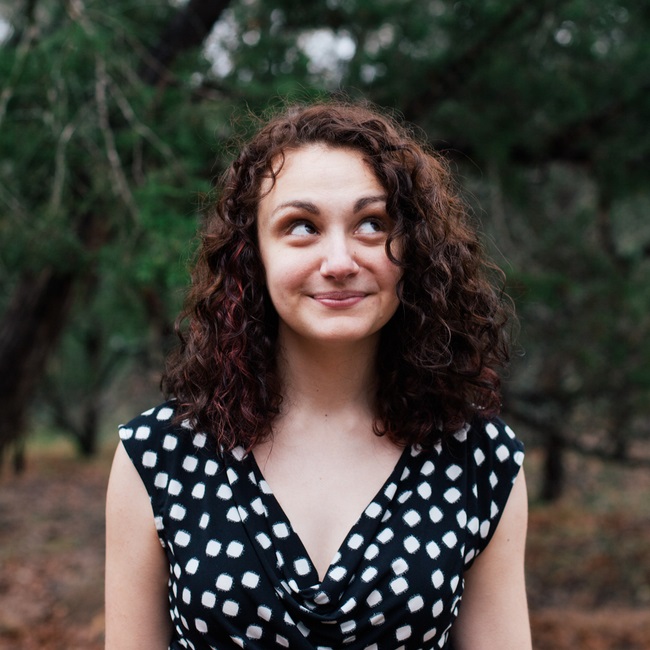 "My favorite part of Killer Halloween Party was all of the innovative ideas that Miranda had, especially around Halloween. You can Google, "How to host a great party," but this course was able to tell you how to plan an incredible HALLOWEEN party - from playlists to decor to invitations, Miranda has put thought into it all. If Halloween is your jam, you should absolutely be investing in this course."
- Chrystina, 2016 Killer Halloween Party School student
You might be asking yourself, "Who loves Halloween SO much, they'd create a course to celebrate it?"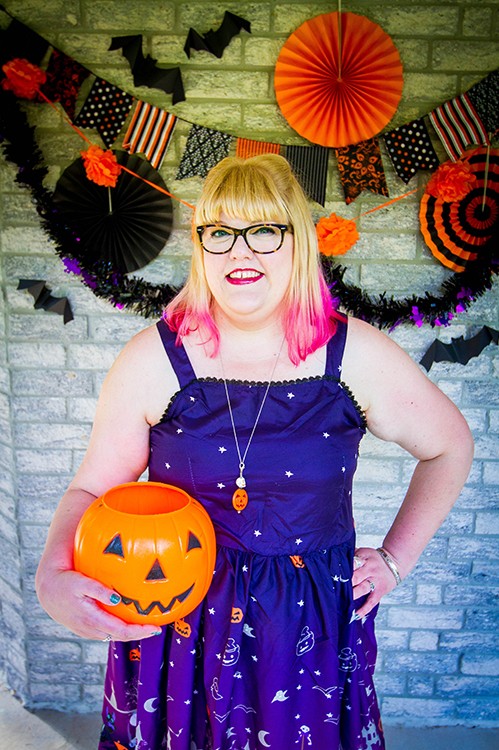 That'd be me! Hey, I'm Miranda. I'm the Halloween lover behind Killer Halloween Party. I've been hosting my own party, Halloweenie Roast, since 2009.
After a decade of throwing an annual bash to celebrate my favorite day of the year, I've learned a few things about what it takes to make a party killer. And now I'm excited to share that knowledge with you and help YOU make your own Halloween party one hell of a spooky celebration, year after year.
Why? Because I wholeheartedly believe every Halloween lover should host their own party to celebrate October 31st. (Plus, it's the best way I've found to recapture the magic of trick-or-treating as an adult Halloween lover!)
Are you right for Killer Halloween Party?
Whether you've never hosted a Halloween party in your life or you're looking to step up your annual party, I've got tips, tricks and secrets galore in this course that will help guide you through to process!
Killer Halloween Party is right for you if:
You want to plan a party, but you don't know where to start
You want to turn your current party from annual gathering to the most anticipated soiree of the year
You need help staying on track and getting everything done
You're looking for the BEST way to celebrate Halloween this year!
Let's make October 31st even better and plan your killer Halloween party to celebrate the best night of the year!
Course Curriculum
Overview
Available in days
days after you enroll
Lesson 1: Planning a killer timeline
Available in days
days after you enroll
Lesson 2: How to make budgeting less scary
Available in days
days after you enroll
Frequently Asked Questions
When does the course start and finish?
Whenever you're ready! It is a completely self-paced online class - you decide when you start and when you finish. However, Killer Halloween Party closes for enrollment on Friday, October. 18 at 11:59 p.m. CST and will not open again until July 23, 2020. Once you enroll you have lifetime access so you can use it year after year to plan your party! And I'll be right here, ready to help you do it all over again. Think of me as your personal Halloween party planner.
What will I learn in this course?
In Killer Halloween Party, I will teach you the details I plan every year for my own party. These details are super simple, but they are an essential part of how I've turned my party from a casual gathering into an anticipated event my friends ask me about all year long.
I've never planned a Halloween party - is this course for me?
Absolutely! In fact, this course was created with someone like you in mind. It took me years to refine the details I needed to plan to make my party awesome. By the time you complete KHP, you'll have everything you need to host your own killer party from the beginning!
I've been hosting Halloween parties for years - is this course for me?
Definitely! We all plan differently, and I'm betting I have a few tips, tricks and treats that will take your party to the next level. Focusing on the key details I plan each year has helped me refine my own party and make it even more amazing. Let's do the same for yours!
How long do I have access to the lessons?
How does access until the grave sound? Mwahaha! By which I mean...lifetime access. After enrolling in KHP, you have unlimited access across any and all devices you own for life.
What if I am unhappy with Killer Halloween Party?
I doubt that would happen, Halloween lover, but I would never want you to be unhappy! If you are unsatisfied with your purchase, you can request a full refund within the first 30 days.
Here's what my friends have to say about Halloweenie Roast, my Halloween party I've been planning since 2009: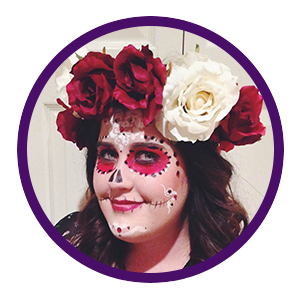 "I'm not really what you would call a Halloween person. This changed when I started attending Miranda's Halloweenie Roasts. They're the perfect amount of spook for me. I travel from Oklahoma City to attend these parties because the themes are so fun, and I adore the amount of detail and planning that goes into these parties - right down to the skull and crossbones ice cubes! You HAVE to have those for your Witches' Brew. Miranda knows how to plan the perfect Halloween party ."
- Katie, Halloweenie Roaster since 2009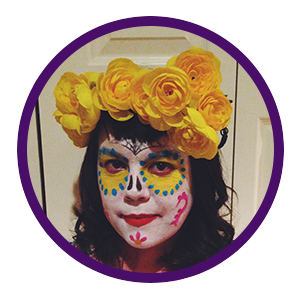 "As a fellow Halloween lover, I'm always interested in themed parties, elaborate costumes and everything Halloween. At some point there was talk about traveling to attending - when a concert happens to fall in Houston on the same weekend as the Halloweenie Roast, you go! Being surrounded by good people, dressed up, drinking Witches' Brew is the good stuff."
- Lauren, Halloweenie Roaster since 2014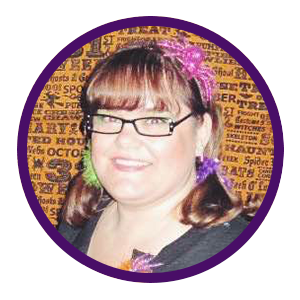 "Miranda's Halloweenie Roast is my favorite party of the year to attend. The decorations are always something her guests oooh and aaaah over - they really get people talking. Every year there is a different theme, and every year it's exciting to find a costume to fit the theme. It is also exciting to see how Miranda decorates and plans her parties to fit the theme."
- Suzi, Halloweenie Roaster since 2013
Your Instructor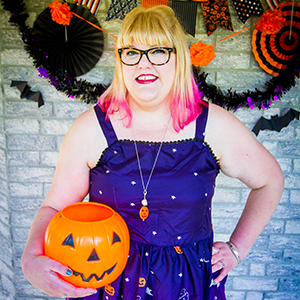 Miranda Enzor is the creator of Killer Halloween Party and the writer, blogger and Halloween lover behind spookylittlehalloween.com, the blog celebrating October 31st all year long. Halloween has been one of her favorite holidays to celebrate for as long as she can remember. These days she keeps her love of the spookiest day of the year alive by hosting her annual party, Halloweenie Roast, and – of course – writing Spooky Little Halloween all year long!